With growing demands from consumers for clean label products, the popularity of fruit powders and vegetable powders has skyrocketed. While fruit and vegetable powders have been used for a long time in baked goods, the movement of clean labeling and eating has revolutionized the use of these powders and extended their use to many other categories.
Recent trends of food focus on more than just taste and color as many consumers are looking for products that have functional benefits and clean labels. Fruit and vegetable powders fit the bill as they can easily be incorporated in labels and they give the consumers the impression that the product is more natural and healthier than the conventional products.
Today, many food manufacturers have incorporated fruit and vegetable powders in making their products. They are not only used in making healthier versions of donuts, muffins, and cookies but virtually many types of products including pasta, cereals, and so much more. Powdered produce is way better than fillers as they increase the nutrient content of food. GrandFusion powders especially set products apart from the crowd. The NutriFusion technology enables companies to add a small amount of fruit and veggie powder (225mg) and add 50% daily value of 12 different vitamins at the same time. Let's take a closer look at the benefits of fruit powders and vegetable powders.
The Benefits of Fruit Powders and Vegetable Powders
There are so many benefits of using fruit and vegetable powders. Several studies indicate that it can boost overall health. In the 2016 study conducted by researchers from the University of Cincinnati Academic Health Center, adults who consume powdered blueberry showed better signs of cognitive performance. Researchers noted that consumption of such powders can help reduce the risk of Alzheimer's disease.
Other studies noted that fruit powders contain rich amounts of polyphenols that can help maintain good heart and cognitive functions. What makes powdered produce powerful is that they are denser compared to whole foods thus the concentration of nutrients is larger. Imagine that one teaspoon of powdered spinach may be equivalent to several cups of raw spinach. So, if you use two or more teaspoons, you do the math.
The Need for Nutrient-Dense Food is High
There is a growing desire especially among the younger consumers for foods that are loaded with high amounts of nutrients and minerals. In a recent report released by market research company Mintel entitled "Snacking Motivations and Attitudes US 2015," it is more likely that younger consumers prefer snacks with added nutritional value such as fiber and protein content compared to the elderly consumers.
Powdered produce also contains high amounts of antioxidants and fiber content. In fact, one can get more fiber and antioxidants with a few tablespoons of powdered produce compared to eating a whole cup of fruits and vegetables. Moreover, they also contain high amounts of natural sugar thereby omitting the need for more free sweeteners.
Inspired by www.bakingbusiness.com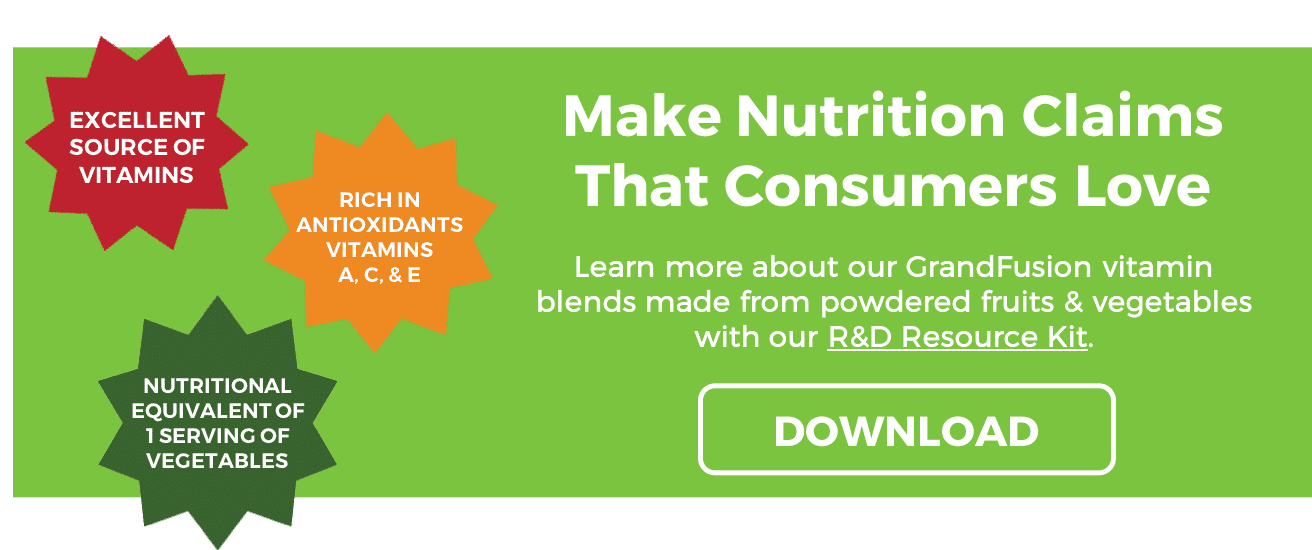 https://nutrifusion.com/wp-content/uploads/2016/11/pure-and-organic-fruit-powder-P3K7GTS.webp
400
600
NutriFusion
https://nutrifusion.com/wp-content/uploads/2022/05/NutriFusion-Logo-New-1030x251.png
NutriFusion
2018-06-20 09:56:47
2018-06-20 09:56:47
Fruit Powders and Vegetable Powders Are Versatile for CPG Brands